Neve Shamir (also known as Ramat Beit Shemesh Hey) is a new neighborhood of Beit Shemesh, and will be home to 5,000 families. 60% of the apartments were sold via Mechir LaMishtaken, and the remaining apartments are available for the general public.
The neighborhood as seen in the map below, is located adjacent to Mishkafayim (North), Ramat Beit Shemesh Aleph (North West) and Gimmel 2 (West). According to Beit Shemesh Mayor Aliza Bloch, Neveh Shamir will be an open neighborhood for all types of people.
Infrastructure work for the new neighborhood began in 2019, with roads already paved. Various developers have started the construction of their apartment buildings. By 2022, many of the apartments will be ready for occupancy.
We are the exclusive Real Estate Agents for a few of the new projects, and will be listing them as soon as the floor plans are finalized and approved by the city.
If you are interested in buying an apartment in Neve Shamir, please fill out the contact form, and we will let you know when they are available.
Apartments for Sale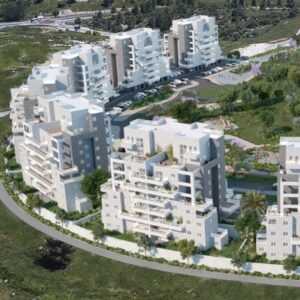 4 Bedroom Apartment on 1st Floor
1,850,000₪
Bedrooms: 4
Bathrooms: 2
Approx. 123 Sq. Meters
Type: Apartment
City: Ramat Beit Shemesh
Neighborhood: Neve Shamir
Project: Shaked Mul Hanof
Year Built: 2022



---